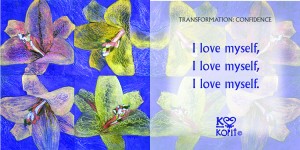 Do you put all your obligations and duties before anything you do for yourself?  Do you awaken each day exhausted when you get out of bed?  Do you feel you have nothing to look forward to?  Do you have headaches from accumulated stress?  
Most of us spend a majority of our time thinking about work and caring for our families.  Of course our commitments are necessary, and some quite fulfilling, but often we neglect ourselves.  During my "sick" years I did absolutely NOTHING to care for my body or soul.  I was depleted to the point of serious decay and consequently reached my "bottom" which was a spiritual death.  On my path to wellness I needed to learn techniques of how to administer a steady dose of self-love and nurturing.  These methods can be learned.  I want to share some of these, not to over-whelm you, but to remind you that we each have choices to reduce stress and lead a healthy, well-balanced life.  I feel it is important to do "something" just for yourself before you take care of every thing else pressing in your day.  If this means getting up earlier, than do it. 
1.  The most gratifying practice was to learn to meditate.  Please don't be scared by this.  I started the easy way, and you can as well, with guided meditation.  A wonderful site for this is www.healthjourneys.com.  I specifically love the work of Belleruth Naparstek.  Her name is difficult to pronounce but her guidance is wonderful.  I was introduced to Belleruth's CD's when I was preparing to have hip replacement surgery.  What a great help her soothing voice and meditations were to me.  She offers a variety of healing topics.
2.  I love the sound of water flowing over rocks.  It isn't always easy to get to a waterfall but you can bring the beauty in the form of a fountain to you.  There are several small water cascades that grace my home.  Each one makes a different sound so it's a good idea to listen before you buy.
3.  Candle light is very soothing.  I have collected, and have been given as gifts, glass votive candle holders.  My mother-in-law gave me a large decorative object that holds 12 candles or votives.  I light all of them at once when I meditate each morning.  If you live near a Cost Plus World Market they sell a 50 pack of six hour burning votives that are the best deal I have found.  If you focus on the flame it can be mesmerizing and quite relaxing.  Remember to blow them out before you leave the house.
 4.  I recently purchased a Tibetan Singing Bowl after waiting many years.  I was in a Japanese store, Suji in Lafayette, CA and listened to the resonance that went straight to my heart.  You will be able to hear to the vibration on line if you choose to order a bowl that way.  I have used mine so many times.  It calms the energy and carries me to a lighter, happier, more beautiful place.  What a great tool to add to your practice of sitting quietly and meditating.
5.  Play the sounds of nature on your I Pod or CD's when you awaken, as beautiful background music anytime during the day, or at bedtime.  When you hear rain, or wind, or chirping birds of the rainforest you will be transported to another world.
For special "me" time later in the day if you can, walk in nature, take a nap, or read a book.  I have learned to actually schedule these activities in between duties.  Even ½ hour of one of these choices will help you feel less depleted and more fulfilled.  I hope you will be open to trying one of these suggestions.  It is important to enjoy our lives. For me the best way to begin was to start small and then gradually these practices have become a focal point of each day.  I look forward to being at peace with myself and just "being." What about you?