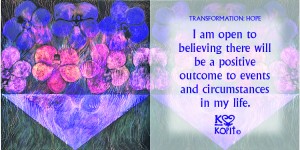 I am open to believing there will be a positive outcome to events and circumstances in my life.  This is a feeling-attitude that I embrace thoroughly at this point in my life.  I can't say that was always the case. 
A friend of mine recently told me that he thought I was the most positive person he had ever met.  Hmmmm?  I pondered this in depth because I wanted to understand the difference between being positive, up-beat with a constant smile on your face and the deeper sentiment of understanding, faith and trust that is needed in the presence of stress, anxiety, pain and sadness. 
As I write this blog I have the opportunity to watch myself in action to see if I am living my affirmation for Hope.  Last week, late Thursday afternoon, my daughter noticed that one of our darling cats was straining to urinate.  Having had 13 cats in my adult life I knew this was not a good sign.  We took him to the vet immediately and he spent 48 hours in their care.  I won't go into all the medical information but the gist of the situation was that the problem was corrected and he could go home.  We needed to give him medicine to help relax his bladder.  For three days it was like a hospital here.  I did 8 loads of laundry filled with wet blankets and towels.  I didn't mind the mess because at least he was urinating.  On Monday evening we noticed that he was straining again.  This time I took him to the Emergency Veterinary Hospital in Berkeley.  Today is Thursday, May 26, 2011, and he is still in their care.  They have performed two surgeries and several procedures.  I began to really get scared. 
Both the doctor and the nurse have been available to talk about our kitty's situation.  For that I am grateful.  But, each time I have gotten a call I watched myself dreading the worst. I began conjuring up "what-ifs" and the worst case scenario.  It was literally making me sick   Fear is negativity.  I decided to call the doctor rather than wait for an update.  I told her of my concerns and she said, "I don't think he is going to die, no, he is just responding differently than most of the comparable situations.  It is taking longer than usual to send him home."  It is very easy to expect the worst when you are scared, or anxious.  I now have consciously chosen to believe that there will be a positive outcome to this difficult circumstance.  I am visualizing that our little Russian Blue is comfortable; enjoying all the attention he is getting at this special hospital, and will be home soon healthy and as playful as he always has been.  It is in the hands of the divine.