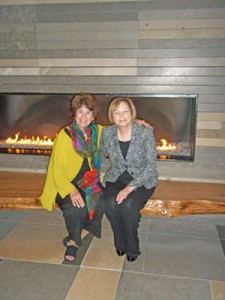 There are all types of friendships.  We have acquaintances that we are attracted to for varying lengths of time. People come into our lives to balance a need we share and to mirror our soul's growth.  Some of our contacts we meet in high school and college.  Other associates are parents of our children's playmates or people we know in our profession or work place.  Then there are the friends with whom we have a deep and special bond.  Have you heard the expression, "You would be lucky to count your true friends on one hand?"  I am fortunate; I can.   
I treasure my friends, especially those I have known since childhood growing up in St. Louis, Missouri.  One such dear friend is Diane Kessler.  I remember first meeting Diane in 9th grade, on a double date, where she made a strong impression on me. She lived inUniversity City and I lived in Clayton, neighboring communities.  She was known in both towns as one of the most beautiful girls in high school.  But what stood out for me was her sincere and unassuming personality.  Her sense of style was unparalleled with other teenage girls, yet she was unaware of any differences.  She loved adventure and loved to have fun.  I noticed right away that she never judged other people and always saw the best in them.  Our friendship blossomed in those early years and has grown stronger as we have matured.
What has strengthened our relationship is the fact that she was close with my mother, brother and dear Aunt Letha.  Diane and my mother had lunch together everyday when they worked at the same hospital.  Her younger sister dated my brother and Diane and her sister spent a lot of time with my Aunt Letha, both in Missouri and in California.  She was not aware of the secrets I was hiding about my life behind closed doors.  Their normal, loving ties have helped me over the years in my recovery because it gave me a sense that everything wasn't crazy in my life.  Diane's devotion to her family, her love of animals, her unselfishness in giving of her time to so many underprivileged families, and her unwavering thoughtfulness has deepened my love and respect for her which continues to grow with passing years.
For the last 30 years Diane has lived in southern California and I have lived in northern California.  Our birthdays are eight weeks apart so we try to meet once a year or every other year and take a five day vacation together.  We usually pick a city on the west coast so that we don't have to travel all day to our destination.  Last week we went to Seattle.  As much as we both love exciting activities when we are together we enjoy lounging, relaxing, eating good food and mostly talking, talking, talking.  It is a time to catch up and recharge for our busy lives.  She is definitely a sister I didn't have in this life time.
We both look and feel young for our age, fortunately.  On the last day of our trip we were in a shop looking at a skin care line.  We have always tried new products and share the pros and cons of each item.  The sales clerk was a bit resistant to answer questions but she did comment on Diane's flawless skin. At the same time a shopper started asking both of us normal questions as to where we were from, etc.  We told her we were high school friends celebrating our birthdays together.  The customer said, "I hope this isn't inappropriate, but how many years have you known each other?"  Diane answered proudly, "We have been friends for 55 years."  They both gasped and the young sales clerk immediately began being more attentive to Diane.  On the way out my friend whispered, "Did you notice how she took my arm and wanted to help me with the purchase when she figured out our age?"  We both got such a kick out of that.  If you are curious as to which birthday we are celebrating, I prefer not to write the number.  You can do the math. 
Wishing a Happy Birthday to my dear friend Diane.  May we spend many, many more together.  For each of you, dear readers,  I hope you will cherish your friendships and nuture them with loving care.