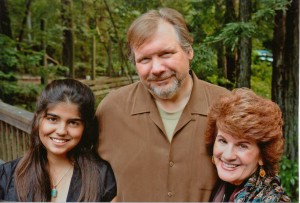 I wasn't fortunate to have a father growing up; he died when I was nine years old.  I have very few memories of my dad.  The ones I do have are not pretty because he was an alcoholic and a gambler.  For years I didn't even notice Father's Day on the calendar.  This has all changed because there is a father in the house; my husband Bryan who is an outstanding father to our daughter Mariah.  This blog is in his honor for this special day approaching Sunday.
My husband is 19 years my junior.  Both of us always wanted children but when we married I was already past the child bearing years.  It was quite noble of Bryan to choose to marry me in the face of overwhelming odds that we would be able to have biological offspring.  We were very fortunate to adopt a baby girl when I was 54 years of age.  She is now 15 and is the light of our lives.
From the minute we brought our daughter home from the hospital to present day Bryan has actively participated in Mariah's upbringing.  As an infant he willingly changed her diapers, carefully bathed her in the kitchen sink, and often rocked her to sleep at night.  I remember times when she was standing in the crib he would fan her with a towel and make her laugh.  I never heard him complain at all about helping me with any of the detailed maintenance required with newborns.
Before Mariah could walk she would prop herself against the wall and beg us to throw her soft toy balls in the shape of soccer balls and baseballs.  Bryan would patiently do this for what seemed like hours.  He thought then that she was destined to play a sport that involved catching.  He took over most of the activities that involved athletics and/or adventure.  Even when she was a toddler he would come home from work and walk with her around the large city block where we lived in San Francisco.  We were very fortunate to live in a small cottage next to the original Mission Delores Parish which comprises both the Basilica and the Old Mission. The steps of the Basilica and a handicap ramp in the back of the church became their playground.  Mariah couldn't wait for her dad to get home so they could trek outside.
When we moved across the Bay Bridge we discovered that the East Bay Regional Park District was a plethora of parks and activities.  Every single weekend we would go to the park or the zoo.  More often than not Bryan would take Mariah alone to give me a little space.  He patiently would help her ride ponies, push her on the swings, pet the animals, climb the ropes, and just about anything it took to allow Mariah to explore and have fun.
They became quite the duo and you could see the love flowing between them.  When Mariah was in the second grade she expressed a love of soccer.  The community where we live in Oakland has a marvelous volunteer soccer league.  Bryan willingly took the necessary classes required to become a coach.  For seven years he coached his daughter and the team with two practices a week and a game or two on the weekends.  When Mariah moved up to more competitive teams her dad was there for every try-out. This was a wonderful bonding experience for both Bryan and Mariah.
The list of attributes as a father goes on and on.  I know this; we are both fortunate to be sharing a life with a man such as Bryan.  His strength, advice and capable decisions are a blessing.  I wish a Happy Father's Day to my dearest husband and loving father of our daughter Mariah.  To all you loving fathers Happy Father's Day as well.