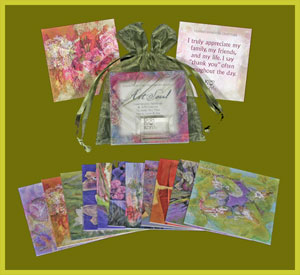 Once I made a conscious decision to get well I was given many tools to help me on that journey.   I have always believed that I was guided every step of the way to become a healthy, happy woman. I repeat, both silently and aloud, meaningful phrases that help and heal.  This practice started for me almost 30 years ago. 
These affirmations began as scribblings on scrap paper and post-it notes.  I would write whatever I was visualizing and scotch tape them to my bathroom mirror or hide them in my dresser. I did this often so that when I would open the drawer and find the note it would inspire me to repeat it and think aloud what I was hoping would materialize.  An example might be: "I am living happily in the perfect apartment."  Or I might say, "My present employment is for my higher good."  I made up my own phrases and filled my environment with dozens of reminders.  I felt, and still feel today, that positive affirmations in the present tense are powerful.  What I didn't appreciate, I suppose because I am an artist, was the tacky look of all the paper notes all over my house.  I was thrilled when Louise Hay first created her series of beautiful cards filled with positive life affirming sayings.  For years I have purchased and used almost every deck she created.
I longed to design cards myself that were both visually appealing and healing. As a way to share my most personal affirmations I have created Art & Soul, Collection One: Transformation, Inspirational Paintings & Affirmations To Help You Find Peace, Love & Joy In Your Life.  There are eleven inspiring cards, each with an original painting one side and a healing affirmation on the other side.  The cards are printed in a high quality, durable, gloss finish and are presented in an attractive drawstring mesh pouch.  A small clear acrylic display stand is included with each collection.  I have narrowed the affirmations to core feelings including: Denial, Sadness, Anger, Anxiety, Surrender, Hope, Courage, Confidence, Forgiveness, Gratitude, and Clarity.  It is easy to carry the set with you or to display on your desk or around the house.  Each card is a mini work of art on one side and on the opposite side is a core affirmation. 
Art & Soul, Collection One: Transformation can be purchased at www.amazon.com as well as www.kaykopit.com.  I hope you will add my cards to your wish list and experience more peace, love and joy in your life.