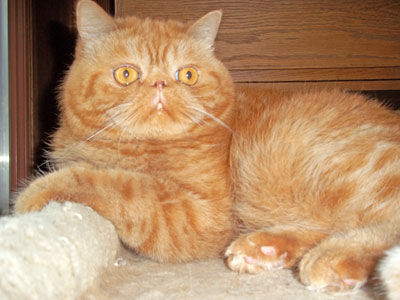 After months of worry, loss of sleep, and visits to three different veterinary clinics in the Bay Area, I am overjoyed with the results of a medical condition affecting our beautiful Red Exotic feline we call Leo.  I owe this all to the skill and care of Dr. Stacey Holtz and the staff at the Four Seasons Animal Hospital in Lafayette, CA.
My daughter Mariah named our cat Leonardo Da Vinci in honor of the master painter.  His breed of feline is picked most often to play the lead in cat movies because of their flat faces and big eyes.  Not only is he fun to look at but his disposition is sweet and loveable.  Mariah said last summer when we were dealing with a hospitalization of our other cat Yoshi, "If anything happens to Leo I would just die."  I knew how she felt because I too find him irresistible.
During the summer, just a few weeks after Yoshi came home from the hospital, I noticed that Leo appeared to have a dark brown beard all around his mouth and cheeks.  It was very strange.  I had never seen anything like it.  Since our responsible veterinarian, where we live in Oakland, was out of town we were given information by the visiting vet at his clinic.  She told me this, "Leo has an infection causing the scabbing and inflammation around his mouth.  Perhaps he caught something from dirty dishes."  I was surprised because I have had 13 cats in my adult life and I go to great lengths to feed them and care for them properly.  Leo and Yoshi eat from very clean dishes and always have fresh water available.  Before we left the office that day the female veterinarian had her technician use a comb to get rid of what she called dead skin.  I was too shocked to say much but I took home the antibiotic she gave me and administered it to Leo for two weeks.  The inflammation went down slightly but never really went away.  By the time we returned to see our trusted veterinarian Leo was beginning to bleed from his eyelids and lesions started to appear on his face.  It was awful.
Our vet took one look at him, did some tests in his lab, and sent us to an eye specialist in El Cerrito, CA.  After a through examination this wonderful woman recommended Dr. Holtz, a DVM specializing in Dermatology at the Four Seasons Animal Hospital, but before parting she said, "We are all partners in finding out how to help Leo." Please stay in touch and have Leo's records sent here."   It really made me feel better to know that the doctors' at all three clinics were caring, concerned and willing to share information to find out what was wrong with our beloved pet.
It was so painful to watch our precious Leo covered with abrasions all over his head and feet. He barely came out to see us and was more comfortable sitting in dark, quiet places.  Mariah and I knew he was suffering and all we could do was follow the routine with his medicine, change of diet and give him lots of love. This took several months of patience and prayers.  Dr. Holtz and Freddy her technician has made this whole process bearable.  Dr. Holtz was always extremely detailed, friendly, honest and hopeful.  She never promised anything but I would leave each visit with a letter of instructions and how to reach her with  questions at any time.  I felt confident that Leo was in the BEST hands, a veterinarian who dots her "i's" and crosses her "t's."
Today we have a well, happy boy as you can tell by his picture.  It is so wonderful to see Leo playing, purring and being his usual adorable self.  To me it is a bit of a miracle.  Thank you Dr. Holtz!